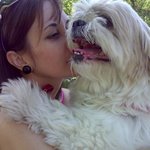 Lucrezia Solena
I am Lucrezia Solena, the Designer and Creator of French Fashion Accessories and Interiors under my brand "Cute Fashionista". I create exclusive collections, based on specific themes. http://www.cutefashionistascarf.com/ Each design is a work of art, produced as a limited edition. All patterns are hand-painted on paper with gouache before to be printed. It takes me around 40 days to realise some of my pattern (only one) ! A lot of original accessories, chic and collectable. Enjoy ! Lucrezia Solena joined Society6 on January 6, 2017
More
I am Lucrezia Solena, the Designer and Creator of French Fashion Accessories and Interiors under my brand "Cute Fashionista".
I create exclusive collections, based on specific themes.
http://www.cutefashionistascarf.com/
Each design is a work of art, produced as a limited edition.
All patterns are hand-painted on paper with gouache before to be printed. It takes me around 40 days to realise some of my pattern (only one) !
A lot of original accessories, chic and collectable.
Enjoy !
Lucrezia Solena joined Society6 on January 6, 2017.