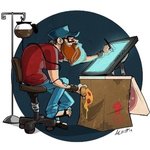 Lucas Elliott Art
Lucas Elliott is the Alaskan Illustrator of the Graphic Novel & Movie, MOOSE, written by Chad (Tundra Comics) and Darin Carpenter.
Lucas has worked for IDW on their TMNT Amazing Adventures comic, Blind Ferret Entertainment, The Gutters and Non-Playable Character.
Originally hailing from the far north land of Santa, North Pole, Lucas currently resides in Anchorage, with his wife and their canine companion.
Read more
Lucas Elliott Art's Store