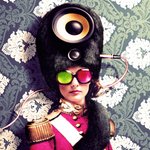 Lucid House
Morris La Mantia [lucidhouse] Freeform audio visual performance artist. I make video art, perform Audio-visual sets with DJ's and Electronic musicians. Dabble in Collage illustration and multimedia . Most of my Collage work is handmade with a bit of digital retouching. I'm available for commissions, freelance projects, creative direction or collaborations. http://www.lucidhouse.com https://vimeo.com/lucidhouse http://lucidhouse.tumblr.com/ http://www.flickr.com/photos/lucidhouse/ http://www.facebook.com/pages/lucidhouse/45529989339 Lucid House joined Society6 on July 21, 2011
More
Morris La Mantia [lucidhouse] Freeform audio visual performance artist. I make video art, perform Audio-visual sets with DJ's and Electronic musicians. Dabble in Collage illustration and multimedia . Most of my Collage work is handmade with a bit of digital retouching.
I'm available for commissions, freelance projects, creative direction or collaborations.
http://www.lucidhouse.com https://vimeo.com/lucidhouse http://lucidhouse.tumblr.com/ http://www.flickr.com/photos/lucidhouse/ http://www.facebook.com/pages/lucidhouse/45529989339
Lucid House joined Society6 on July 21, 2011.