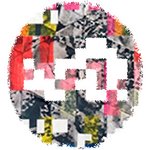 Lucy Salter
Inspired by the act of mapping, I collect and translate information into a visual form, codifying data to generate a 'map'. Using repetitive blocks of colour to replace the letters of the alphabet I create abstract geometric patterns filled with narrative. Conceptually my 'maps' mirror contemporary landscape and portraiture by detailing facts, feelings and thoughts about a specific place or person. I investigate the connections between people and places, exploring their inter-relationship through line, scale, colour and contrast. Through the use of ephemeral materials such as photos, receipts and newspaper, I personalise each piece, building up layers of coded information. This therefore transforms written word and data into illegible abstract imagery with subtle but definitive meaning. Find me at: www.lucysalter.co.uk www.lucysalter.tumblr.com www.facebook.com/lucysalterartist Lucy Salter joined Society6 on February 16, 2014
More
Inspired by the act of mapping, I collect and translate information into a visual form, codifying data to generate a 'map'. Using repetitive blocks of colour to replace the letters of the alphabet I create abstract geometric patterns filled with narrative.
Conceptually my 'maps' mirror contemporary landscape and portraiture by detailing facts, feelings and thoughts about a specific place or person. I investigate the connections between people and places, exploring their inter-relationship through line, scale, colour and contrast.
Through the use of ephemeral materials such as photos, receipts and newspaper, I personalise each piece, building up layers of coded information. This therefore transforms written word and data into illegible abstract imagery with subtle but definitive meaning.
Find me at: www.lucysalter.co.uk www.lucysalter.tumblr.com www.facebook.com/lucysalterartist
Lucy Salter joined Society6 on February 16, 2014.