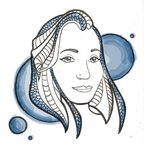 Aoi Hikari Arts
From early on I fond myself interested in illustration and animation. While majoring in graphic design I progressively left animation as my second field of study to endorse and devote myself to the study of types. I have a 4 years experience in the stationery area, however nowadays I'm only focused on illustration and calligraphy works. My biggest goal is to develop projects that are capable blend them both. Aoi Hikari Arts joined Society6 on April 18, 2014
More
From early on I fond myself interested in illustration and animation. While majoring in graphic design I progressively left animation as my second field of study to endorse and devote myself to the study of types.
I have a 4 years experience in the stationery area, however nowadays I'm only focused on illustration and calligraphy works.
My biggest goal is to develop projects that are capable blend them both.
Aoi Hikari Arts joined Society6 on April 18, 2014.