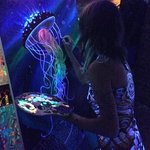 Luna
Hello! I am an artist based out of British Colombia. Here you'll find mostly my painting work, and possibly a few digital paintings as well. I invite you to check out more of my work; my website: www.luna-artanddesign.com Facebook page: www.facebook.com/lunaartanddesign Tumblr: www.c-omets.com/tumblr/tagged/mine instagram: luna.lunz Thank you for stopping by! Luna joined Society6 on July 16, 2015
More
Hello!
I am an artist based out of British Colombia. Here you'll find mostly my painting work, and possibly a few digital paintings as well. I invite you to check out more of my work;
my website: www.luna-artanddesign.com Facebook page: www.facebook.com/lunaartanddesign Tumblr: www.c-omets.com/tumblr/tagged/mine instagram: luna.lunz
Thank you for stopping by!
Luna joined Society6 on July 16, 2015.