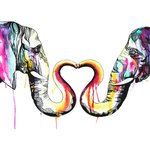 Luna Brie
I began drawing as soon as I was old enough to hold a crayon. My grandparents would come to visit and I could hardly let them walk through the door before I had them piled in various sketchbooks filled from cover to cover. When I drew something I completely disappeared out of this world and into my drawing. What came out the other end was a sincere fusion of my imagination, and the spirit of who I was drawing. I will never say "what" I was drawing because no matter it be an animal, a human or a pear there was always something of the soul that I witnessed in this state of creation.
My parents took me to art classes at Michael's crafts, and I eventually went on to get a BFA in Interdisciplinary arts at The Kansas City Art Institute, but it is really my Dad who I credit with teaching me how to draw. He was a musician who never drew a thing, but I remember sitting in his office at the age of 8 for a "bring your kid to work day" where he taught me how to compare angles and measurements to make my drawing of a golden retriever come to life. My art teacher never taught me that, my Dad did, and I still use that technique today.
Since birth the wild has called me to bring her into vital view through art. From childhood till now, I have been in complete reverence to the natural world, to the pets we love, and their plant friends, and it is my life's mission to honor them by reflecting their magnificence with my humble human hands. Through the wild mystery that lives within the heart of these drawings, may we be called to set our undomesticated hearts free and running towards our wildest true calling. It is my hope that the souls captured in my art will remind us to be as brave as they have been in doing their part to feed the world.
By purchasing my art you are helping me realize my greater dreams to travel to wildlife reserves, and to fund rescues, and environmental programs. This is one way we can keep our natural world (that's all of us!) thriving. Thank you for doing a good thing by supporting handmade works of art everywhere. You have made our world a more beauty filled place.
Read more