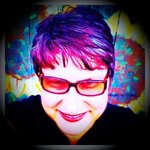 lunacatd
Hi, I am a secularist/feminist/atheist. Sometimes I'm funny other times smart, though more likely smartass also a proud #CumberCougar. Most recently author of The Study of Blood in Winter https://www.totallybound.com/the-study-of-blood-in-winter Born in Argentina, but I have lived in Western Canada since my early teens. I have been a book lover for as long as I can remember and have kept out of trouble (sort of) by drawing, painting, farming, and taking care of my family. I have been writing for a number of years though becoming an honest to goodness author is a recent development. Presently I live on a farm making spreads & sauces from fruits and veggies grown there in our family owned and operated business. I enjoy writing in all sorts of genres, but her first love is erotic romance. In my down time, when I'm not writing I'm drawing and vice versa. lunacatd joined Society6 on February 27, 2014
More
Hi, I am a secularist/feminist/atheist. Sometimes I'm funny other times smart, though more likely smartass also a proud #CumberCougar. Most recently author of The Study of Blood in Winter https://www.totallybound.com/the-study-of-blood-in-winter
Born in Argentina, but I have lived in Western Canada since my early teens. I have been a book lover for as long as I can remember and have kept out of trouble (sort of) by drawing, painting, farming, and taking care of my family. I have been writing for a number of years though becoming an honest to goodness author is a recent development.
Presently I live on a farm making spreads & sauces from fruits and veggies grown there in our family owned and operated business. I enjoy writing in all sorts of genres, but her first love is erotic romance. In my down time, when I'm not writing I'm drawing and vice versa.
lunacatd joined Society6 on February 27, 2014.