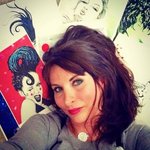 LunaLunaRiotGirl
Suz Matthews is visual artist best known for her "female-centric" prints, paintings and street art. Her art is often described as "Op/street/funky/female." Susan's art has been featured in film, music, clothing, print, stapled to telephone poles, sprayed on concrete and hung on the occasional business or bedroom wall. Through her female themed subject matter, she creates images that are whimsical, thought provoking and seductive. She has exhibited her work internationally and is featured in private and public installations worldwide. Susan is a current member of the National Association of Women Artist's, has an affinity for Faber-Castell markers, all things nerdy-goodness, Chuck Taylor low tops, good wine, punk rock music and her cat, Kerouac (not necessarily in that order). She currently works and resides in Denver, CO. LunaLunaRiotGirl joined Society6 on March 8, 2015
More
Suz Matthews is visual artist best known for her "female-centric" prints, paintings and street art. Her art is often described as "Op/street/funky/female."
Susan's art has been featured in film, music, clothing, print, stapled to telephone poles, sprayed on concrete and hung on the occasional business or bedroom wall. Through her female themed subject matter, she creates images that are whimsical, thought provoking and seductive.
She has exhibited her work internationally and is featured in private and public installations worldwide.
Susan is a current member of the National Association of Women Artist's, has an affinity for Faber-Castell markers, all things nerdy-goodness, Chuck Taylor low tops, good wine, punk rock music and her cat, Kerouac (not necessarily in that order). She currently works and resides in Denver, CO.
LunaLunaRiotGirl joined Society6 on March 8, 2015.