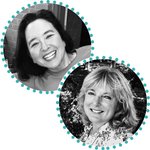 Luscious Life Studios
Our mission is to create luscious designs that bring a smile to your face and brighten your day by creating patterns for products from mobile devices to home decor and fashion. Would you love one of our designs in a different color? Let us know and we will see if we can make it happen! Want to talk about licensing our designs? We would love to hear from you! Please contact lusciouslifestudios@gmail.com for inquires. Check out our full collections on our website. www.lusciouslifestudios.com https://www.facebook.com/LusciousLifeStudios http://pinterest.com/helloluscious/ Luscious Life Studios joined Society6 on January 14, 2013
More
Our mission is to create luscious designs that bring a smile to your face and brighten your day by creating patterns for products from mobile devices to home decor and fashion.
Would you love one of our designs in a different color? Let us know and we will see if we can make it happen!
Want to talk about licensing our designs? We would love to hear from you!
Please contact lusciouslifestudios@gmail.com for inquires.
Check out our full collections on our website.
www.lusciouslifestudios.com https://www.facebook.com/LusciousLifeStudios http://pinterest.com/helloluscious/
Luscious Life Studios joined Society6 on January 14, 2013.