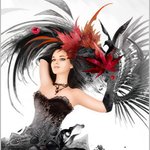 Kseniya Lvova
I'm an artist from Moscow. I took part in various Russian and foreign exhibitions and got awards for a series of my works. My favorite themes are surrealistic contrasts and metamorphoses, unity of opposites. Since childhood I have participated in art exhibitions and contests, studied painting at Moscow State University of Service (the Faculty of Design and Applied Arts, Specialty Miniature Painting). At the university I was fascinated by digital art, realizing that only modern computer technologies' potential could allow me to turn my ideas into life. Yet the three-layer oil painting technique I've mastered still helps me to create digital pictures. My links: Facebook https://www.facebook.com/KseniyaLvovaOfficial Deviantart http://kseniyalvova.deviantart.com Instagram https://www.instagram.com/kseniyalvova Kseniya Lvova joined Society6 on October 31, 2009
More
I'm an artist from Moscow. I took part in various Russian and foreign exhibitions and got awards for a series of my works. My favorite themes are surrealistic contrasts and metamorphoses, unity of opposites. Since childhood I have participated in art exhibitions and contests, studied painting at Moscow State University of Service (the Faculty of Design and Applied Arts, Specialty Miniature Painting). At the university I was fascinated by digital art, realizing that only modern computer technologies' potential could allow me to turn my ideas into life. Yet the three-layer oil painting technique I've mastered still helps me to create digital pictures.
My links: Facebook https://www.facebook.com/KseniyaLvovaOfficial Deviantart http://kseniyalvova.deviantart.com Instagram https://www.instagram.com/kseniyalvova
Kseniya Lvova joined Society6 on October 31, 2009.