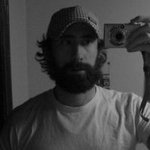 Lyall Brownlee
Lyall Brownlee is a self taught artist based in Peterborough, Ontario. First introduced to art through skateboard culture as a youth, his artistic interests have broadened over time but his aesthetic and DIY approach; remain true to those early influences. Lyall has exhibited consistently in group and solo shows for the past decade, having had the opportunity to show in artist run centers, commercial galleries and alternative spaces in Peterborough, Toronto and Vancouver. www.lyallbrownlee.com Lyall Brownlee joined Society6 on March 1, 2012
More
Lyall Brownlee is a self taught artist based in Peterborough, Ontario. First introduced to art through skateboard culture as a youth, his artistic interests have broadened over time but his aesthetic and DIY approach; remain true to those early influences. Lyall has exhibited consistently in group and solo shows for the past decade, having had the opportunity to show in artist run centers, commercial galleries and alternative spaces in Peterborough, Toronto and Vancouver.
www.lyallbrownlee.com
Lyall Brownlee joined Society6 on March 1, 2012.
Lyall Brownlee's Store
9 result
Filter