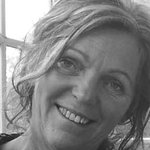 Lydia Wienberg
I am educated at Kunstgewerbeschule in Flensburg Germany, and later in Denmark as a Grapic Designer. My art is sold in Denmark, Norway, Sweden, Germany, Ireland, Italy and as far away as Hong Kong. My style is naive, and i love flowers in brigth and warm collors. As an naturel development off my Art, we started i january 2008, with set up dealers in Denmark, later Sweden and in May the first dealer in England was signed in. Lydia Wienberg joined Society6 on January 1, 2014
More
I am educated at Kunstgewerbeschule in Flensburg Germany, and later in Denmark as a Grapic Designer.
My art is sold in Denmark, Norway, Sweden, Germany, Ireland, Italy and as far away as Hong Kong.
My style is naive, and i love flowers in brigth and warm collors.
As an naturel development off my Art, we started i january 2008, with set up dealers in Denmark, later Sweden and in May the first dealer in England was signed in.
Lydia Wienberg joined Society6 on January 1, 2014.