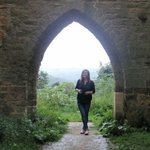 Lynette Sherrard Illustration and Design
Lynette Sherrard is a freelance illustrator and designer from a little town situated in County Down, Northern Ireland. She received a First Class Honours Degree in Design at Bishop Burton College, East Yorkshire, in 2010. Her body of work mainly is composed of Lynette's own love for nature, displaying a range of different depictions of birds, deer, foxes and plants. Lynette loves to work in a range of different mediums, from hand drawn elements to digital creations on Photoshop and Illustrator. Lynette also enjoys photography in her spare time.
Lynette's clients have included the well known Stephen Anderson Publicity, where she has worked with a number of independent musicians from the UK and USA, advertisements for Rocksound Magazine, small businesses and personal commissions.
Please visit Lynette's online portfolios at:-
Facebook https://www.facebook.com/LynetteSherrardDesign
Pinterest http://pinterest.com/lynettesherrard/
Commissions are now available at Lynette Sherrard Illustration and Design for more information or to request a commission form please email lynette_sherrard@hotmail.co.uk. Thank you :)
Read more