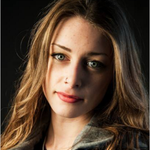 LyssaLetters
I am a self taught artist who enjoys all kinds of mediums to work with! I started drawing when I was about 6 years old and wanted to become a art teacher, I am now 22 and also a pastry chef. I love my job because it allows me to be creative. just started my lettering life in October 2016, and I am loving every minute of it, and also like to partake in instagram lettering challenges. I would love to hear your thoughts about my artwork, and would love to hear what you would like to see more of! I hope you enjoy, and feel free to check out my insta! LyssaLetters joined Society6 on January 24, 2017
More
I am a self taught artist who enjoys all kinds of mediums to work with! I started drawing when I was about 6 years old and wanted to become a art teacher, I am now 22 and also a pastry chef. I love my job because it allows me to be creative.
just started my lettering life in October 2016, and I am loving every minute of it, and also like to partake in instagram lettering challenges.
I would love to hear your thoughts about my artwork, and would love to hear what you would like to see more of!
I hope you enjoy, and feel free to check out my insta!
LyssaLetters joined Society6 on January 24, 2017.