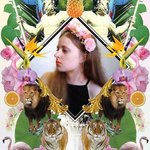 Leah Zahorujko
Leah Zahorujko is a 22 year-old designer and illustrator currently studying her Masters in Visual Communication in Australia. She previously graduated with a Bachelor's Degree in Visual Communication in 2012 at the same university, majoring in Graphic Design.
Her particular interests within the design profession are illustration, print design (posters and publications such as magazine design), as well as web design and typography. She enjoys working with both traditional and digital media.
She is inspired by a multitude of different things, including Lana Del Rey, flowers and botanical gardens, historical female figures, bright and pastel colours, gold and silver, Art Deco and Art Nouveau, Impressionism, mythology and folklore, Gods and Goddesses of ancient civilisations, Philosophy, Egyptology and Archaeology, crystals, wanderlust and beautiful fabrics and prints, to name a few.
Please send her an email [lzahorujko@gmail.com] for an up-to-date portfolio and/or full CV, or simply to have a chat! ∙
Inspiration Blog: http://c0coon.tumblr.com/ Blog: http://clouddancing.blogspot.com.au/ Portfolio: http://lzahorujkodesign.co.vu/ The Loop: http://www.theloop.com.au/lavandula/portfolio/Graphic-Designer/Adelaide Linkedin: http://www.linkedin.com/in/lzahorujko Facebook: https://www.facebook.com/bambisvalentine Instagram: http://instagram.com/g0ssamer#
Read more
Leah Zahorujko's Store
70 results
Filter