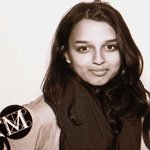 Maansi Jain
Thanks for checking out my work. I first became interested in creating "art" when I was eleven because I saw my little sister drawing and immediately thought, "I can do that too." So, I started drawing the world in graphite. Making visual creations is my means of exploration, analysis and observation. For me, creating art is an active pursuit of freedom from social constraints. Maansi Jain joined Society6 on August 29, 2013
More
Thanks for checking out my work.
I first became interested in creating "art" when I was eleven because I saw my little sister drawing and immediately thought, "I can do that too." So, I started drawing the world in graphite. Making visual creations is my means of exploration, analysis and observation. For me, creating art is an active pursuit of freedom from social constraints.
Maansi Jain joined Society6 on August 29, 2013.
Maansi Jain's Store
22 results
Filter