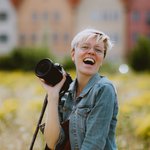 Maartje Hensen _ Dreamy Travel Photography by Female Photographer
Dreamy travel photography from all over the world. From urban photography to aerial photography to wildlife photography to landscape photography, feel free to request photos from my Instagram account @maartjehensen.
About me: I'm a queer female photographer who travels all over the world. Besides travel photography, I also specialize in portraits and weddings. I am based in Amsterdam, the Netherlands.
Read more
Maartje Hensen _ Dreamy Travel Photography by Female Photographer's Store