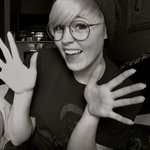 Aimee MaCray
When I get bored, when I can't sleep, when I feel creative, when I find inspiration, when I just can't focus on the tasks at hand - I like to pull out my Moleskine and start from scratch. Lord have mercy, I just hope you enjoy it. I sketch, I paint, I cut, I glue I scan, I edit, I share it with you Golly, I'm lame. Aimee MaCray joined Society6 on June 26, 2012
More
When I get bored, when I can't sleep, when I feel creative, when I find inspiration, when I just can't focus on the tasks at hand - I like to pull out my Moleskine and start from scratch. Lord have mercy, I just hope you enjoy it.
I sketch, I paint, I cut, I glue I scan, I edit, I share it with you
Golly, I'm lame.
Aimee MaCray joined Society6 on June 26, 2012.
Tshirts by Aimee MaCray
6 result
Filter