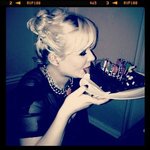 Madame Louvaine
MADAME LOUVAINE / BIO illustrator/textile artist Madame Louvaine is greatly inspired by the 1960/70s movement and there is a constant theme of 'Flora & Fauna' within her work. She is inspired by nature and pattern, whether it is on the walls of a stately home or a derelict concrete jungle. Her work boasts the 'handmade' aspect especially in some of her processes such as her botanical pencil-drawings that adorn her wallpaper. One of these processes is Marbling which she uses in pattern on fabric and in collages. This process involves using a water bath and inks, in which material such as paper is placed into the bath in order for the ink to be absorbed, creating intricate, psychedelic patterns. www.madamelouvaine.com Madame Louvaine joined Society6 on May 26, 2013
More
MADAME LOUVAINE / BIO illustrator/textile artist
Madame Louvaine is greatly inspired by the 1960/70s movement and there is a constant theme of 'Flora & Fauna' within her work.
She is inspired by nature and pattern, whether it is on the walls of a stately home or a derelict concrete jungle. Her work boasts the 'handmade' aspect especially in some of her processes such as her botanical pencil-drawings that adorn her wallpaper. One of these processes is Marbling which she uses in pattern on fabric and in collages. This process involves using a water bath and inks, in which material such as paper is placed into the bath in order for the ink to be absorbed, creating intricate, psychedelic patterns.
www.madamelouvaine.com
Madame Louvaine joined Society6 on May 26, 2013.
Madame Louvaine's Store
22 results
Filter