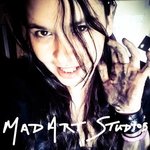 MadArtStudios
Hey! Mad Katt here of Mad Art Studios! I'm a self-taught visual artist, mostly in the traditional fine arts. I started drawing portraits a few years ago to see if I could. I have a thing for eyes and faces, which are difficult to get the likeness, but I like a good challenge. I love figuring out new ways of creating art. Black pastel dust that I get from shaving a pastel stick down with a razor blade is my favorite right now. I also like conte, ink, and acrylic. I have a mad love and passion for art MadArtStudios joined Society6 on September 4, 2016
More
Hey! Mad Katt here of Mad Art Studios!
I'm a self-taught visual artist, mostly in the traditional fine arts. I started drawing portraits a few years ago to see if I could. I have a thing for eyes and faces, which are difficult to get the likeness, but I like a good challenge. I love figuring out new ways of creating art. Black pastel dust that I get from shaving a pastel stick down with a razor blade is my favorite right now. I also like conte, ink, and acrylic. I have a mad love and passion for art
MadArtStudios joined Society6 on September 4, 2016.