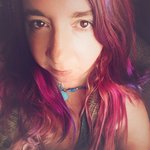 MaddalenaJade
I am a self taught graphic designer living in Portsmouth in the United Kindgom. I am at my most content when viewing the world through a lens and I adore being able to express my passion for our beautiful planet via my photography. Professionally I offer a wide range of services, from event photography to press shoots, flyer design, to personalised commissions.. And almost everything in between. My ultimate inspiration is my mother, a natural artist. I've grown up marvelling at her ability to create beauty and elegance with such ease, and always yearned to follow in her footsteps. It always seemed to me there was nothing she could not do, and that gave me the determination to work towards equalling her artistic skill. I've been taking photographs for as long as I can remember, but only started exploring the wonderful world of graphic design in the last fifteen years, over this time I have built my abilities from the ground up, I love learning new skills and believe I improve a little more each time I open Photoshop. We are after all only limited by that which we can not imagine. MaddalenaJade joined Society6 on November 29, 2016
More
I am a self taught graphic designer living in Portsmouth in the United Kindgom. I am at my most content when viewing the world through a lens and I adore being able to express my passion for our beautiful planet via my photography.
Professionally I offer a wide range of services, from event photography to press shoots, flyer design, to personalised commissions.. And almost everything in between.
My ultimate inspiration is my mother, a natural artist. I've grown up marvelling at her ability to create beauty and elegance with such ease, and always yearned to follow in her footsteps. It always seemed to me there was nothing she could not do, and that gave me the determination to work towards equalling her artistic skill. I've been taking photographs for as long as I can remember, but only started exploring the wonderful world of graphic design in the last fifteen years, over this time I have built my abilities from the ground up, I love learning new skills and believe I improve a little more each time I open Photoshop.
We are after all only limited by that which we can not imagine.
MaddalenaJade joined Society6 on November 29, 2016.