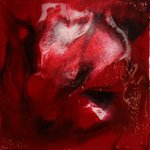 maddicrawf
Madeleine Crawford is a painter currently residing in Pittsburgh, Pennsylvania. Having received a BFA from Alfred University in Alfred, New York and her MFA in painting from Savannah College of Art and Design in Savannah, Georgia, she has experience in a variety of media. Influenced by comic art and the horror genre, Crawford's paintings incorporate themes of abjection and the macabre while exploring the materiality of paint and how the synthetic can be used to replicate the organic. Her work has been shown in Pittsburgh, PA, Alfred, NY, Savannah, GA, and Detroit, MI. https://www.facebook.com/madeleinecrawfordart http://madeleinecrawford.com maddicrawf joined Society6 on July 9, 2014
More
Madeleine Crawford is a painter currently residing in Pittsburgh, Pennsylvania.
Having received a BFA from Alfred University in Alfred, New York and her MFA in painting from Savannah College of Art and Design in Savannah, Georgia, she has experience in a variety of media.
Influenced by comic art and the horror genre, Crawford's paintings incorporate themes of abjection and the macabre while exploring the materiality of paint and how the synthetic can be used to replicate the organic. Her work has been shown in Pittsburgh, PA, Alfred, NY, Savannah, GA, and Detroit, MI.
https://www.facebook.com/madeleinecrawfordart http://madeleinecrawford.com
maddicrawf joined Society6 on July 9, 2014.