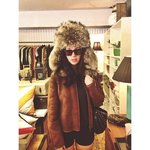 Madeleine Johnson
Hello, I'm Madeleine. I am an actress, writer, film producer, visual artist, yogi, adventurer. Native of Portland, OR, currently basking in the delicious sunshine of Los Angeles, CA. I love flea markets, coffee, puppies, folk music, rain, and roadtrips. I believe love can save the world. All of my work is my original photography. I capture the places, things and people that fill me up with inspiration. La fortune sourit aux audacieux! xx Madeleine Johnson joined Society6 on February 19, 2013
More
Hello, I'm Madeleine.
I am an actress, writer, film producer, visual artist, yogi, adventurer. Native of Portland, OR, currently basking in the delicious sunshine of Los Angeles, CA.
I love flea markets, coffee, puppies, folk music, rain, and roadtrips. I believe love can save the world.
All of my work is my original photography. I capture the places, things and people that fill me up with inspiration.
La fortune sourit aux audacieux! xx
Madeleine Johnson joined Society6 on February 19, 2013.