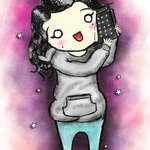 MadelineDeabler
Que stereotypical artist speech From a young age, I've always been fascinated with art, and I would always attempt to draw my pets, family members, to even the weird cartoon shows I was watching. However growing up as a want-to-be artist, started to seem less and less practical the more I aged. Friends of mine were deciding to be chiropractors or engineers, so being surrounded by all of that, you would think I would switch over to a left-brain profession right? HA. no. Instead I followed my dad's footsteps and focused more on becoming a journalist. I spent all four years of my high school enveloped in my school newspaper, yearbook and broadcasting staffs, and I loved every moment of it. But I still found myself leaning more towards visuals, even in classes where I mostly had to write. I was my newspaper's cartoonist, graphic designer and layout person. My yearbook spreads dominant visual consisted of info-graphics I created. Even in my broadcasting class I tried to shoot every shot from every angle possible. Now going into my sophomore year of college at Wichita State University, I changed my major from journalism to graphic design and I couldn't be more excited. MadelineDeabler joined Society6 on August 25, 2016
More
Que stereotypical artist speech
From a young age, I've always been fascinated with art, and I would always attempt to draw my pets, family members, to even the weird cartoon shows I was watching. However growing up as a want-to-be artist, started to seem less and less practical the more I aged. Friends of mine were deciding to be chiropractors or engineers, so being surrounded by all of that, you would think I would switch over to a left-brain profession right? HA. no.
Instead I followed my dad's footsteps and focused more on becoming a journalist. I spent all four years of my high school enveloped in my school newspaper, yearbook and broadcasting staffs, and I loved every moment of it. But I still found myself leaning more towards visuals, even in classes where I mostly had to write. I was my newspaper's cartoonist, graphic designer and layout person. My yearbook spreads dominant visual consisted of info-graphics I created. Even in my broadcasting class I tried to shoot every shot from every angle possible.
Now going into my sophomore year of college at Wichita State University, I changed my major from journalism to graphic design and I couldn't be more excited.
MadelineDeabler joined Society6 on August 25, 2016.