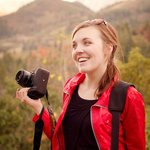 Madeline Shayne
My journey as a photographer started at the age of 17, when I moved to New Delhi, India with my family. Given a hand-me down Kodak camera by my mom as a way of documenting my experiences, I learned the importance of remembering the extraordinary moments in our life's story. Before moving to India, I spent much of my childhood in the enchanted Arkansan Ozarks, painting with my artist grandmother in her cabin in the woods. Having a solid foundation of artistic ability, the blend of experiences in my life has fostered my unique talent for combining the artistry of traditional forms of painting with the documentary nature that photography has to offer. At the heart of every piece I create is an image that is not only beautiful but invites the viewer to visit my captivating world filled with magic, elegance, and every day experiences turned whimsical. Madeline Shayne joined Society6 on September 8, 2016
More
My journey as a photographer started at the age of 17, when I moved to New Delhi, India with my family. Given a hand-me down Kodak camera by my mom as a way of documenting my experiences, I learned the importance of remembering the extraordinary moments in our life's story.
Before moving to India, I spent much of my childhood in the enchanted Arkansan Ozarks, painting with my artist grandmother in her cabin in the woods. Having a solid foundation of artistic ability, the blend of experiences in my life has fostered my unique talent for combining the artistry of traditional forms of painting with the documentary nature that photography has to offer. At the heart of every piece I create is an image that is not only beautiful but invites the viewer to visit my captivating world filled with magic, elegance, and every day experiences turned whimsical.
Madeline Shayne joined Society6 on September 8, 2016.
Madeline Shayne's Store
7 results
Filter