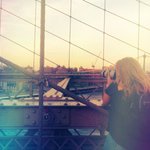 MaferCaEs
I have always been passionate about photography. Ever since I held my dad's camera when I was a little kid, my curiosity for the art started growing. My dad would let me use it and take pictures with it, as long as I would use the camera with care and respect. This led me to want to capture candid scenes of strangers and of the people I love. To see some of my work: www.mafercaesphotography.com MaferCaEs joined Society6 on December 2, 2016
More
I have always been passionate about photography. Ever since I held my dad's camera when I was a little kid, my curiosity for the art started growing. My dad would let me use it and take pictures with it, as long as I would use the camera with care and respect. This led me to want to capture candid scenes of strangers and of the people I love.
To see some of my work: www.mafercaesphotography.com
MaferCaEs joined Society6 on December 2, 2016.