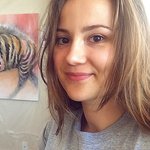 Magda Opoka
I started drawing and painting at a very early age. It was a way I could capture a moment in time or a vision in my mind. Art has been with me in good times and in bad, it has brought me peace, led me to knowledge, and allowed me to gain a deeper sense of awareness through the years. My enchantment with nature has played the biggest role in my artistic evolution. I strive to put the focus on all the invaluable species that support our ecosystem and are diminishing in numbers as the years pass by. My hope is to inspire change and awaken a deeper appreciation for the natural world in others, by showcasing the raw beauty that our world beholds. To see original art please visit www.magdaopoka.com and follow me on instagram at @magdaopoka to see the latest art created by me! Thanks for stopping by! Magda Opoka joined Society6 on December 29, 2016
More
I started drawing and painting at a very early age. It was a way I could capture a moment in time or a vision in my mind. Art has been with me in good times and in bad, it has brought me peace, led me to knowledge, and allowed me to gain a deeper sense of awareness through the years.
My enchantment with nature has played the biggest role in my artistic evolution. I strive to put the focus on all the invaluable species that support our ecosystem and are diminishing in numbers as the years pass by. My hope is to inspire change and awaken a deeper appreciation for the natural world in others, by showcasing the raw beauty that our world beholds.
To see original art please visit www.magdaopoka.com and follow me on instagram at @magdaopoka to see the latest art created by me! Thanks for stopping by!
Magda Opoka joined Society6 on December 29, 2016.