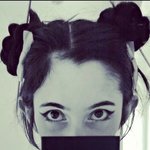 MaggieMeowPaw
Self thought artist and fashion designer with creative mind. I'm super shy, stylish little girl and i love cats and anime! I drew anime girls for the ultimate puzzle game on Steam, Raining Blobs: http://rainingblobs.com You can also find me at: https://www.facebook.com/magdalena.tasevska https://www.instagram.com/magdalenatasevska https://twitter.com/MaggieMeowPaw MaggieMeowPaw joined Society6 on February 8, 2016
More
Self thought artist and fashion designer with creative mind.
I'm super shy, stylish little girl and i love cats and anime!
I drew anime girls for the ultimate puzzle game on Steam, Raining Blobs: http://rainingblobs.com
You can also find me at: https://www.facebook.com/magdalena.tasevska https://www.instagram.com/magdalenatasevska https://twitter.com/MaggieMeowPaw
MaggieMeowPaw joined Society6 on February 8, 2016.
MaggieMeowPaw's Store
12 results
Filter