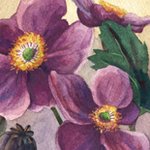 Maggie Rutherford
Born and raised in Bothell, WA, I received my BFA in Painting & Drawing from the University of Washington in 2009. I currently live with my husband and cat in a house surrounded by trees just outside of the city. My work is inspired by the Pacific Northwest, the cycles of the seasons, and the wild woodland garden that I lovingly maintain. I want my art to reflect the power and presence of the natural world around me, celebrating not only nature's grand moments but also its dear and intimate details. http://maggierutherford.com http://www.instagram.com/maggierutherfordart Maggie Rutherford joined Society6 on October 24, 2017
More
Born and raised in Bothell, WA, I received my BFA in Painting & Drawing from the University of Washington in 2009. I currently live with my husband and cat in a house surrounded by trees just outside of the city. My work is inspired by the Pacific Northwest, the cycles of the seasons, and the wild woodland garden that I lovingly maintain. I want my art to reflect the power and presence of the natural world around me, celebrating not only nature's grand moments but also its dear and intimate details.
http://maggierutherford.com http://www.instagram.com/maggierutherfordart
Maggie Rutherford joined Society6 on October 24, 2017.
Maggie Rutherford's Store
103 results
Filter