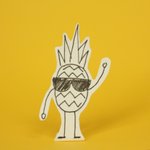 Magic Pineapple Studios
T'is I, a magic pineapple! I am many things: Student, Part-time Artist, Designer, Illustrator, and Full-time Dreamer. I take great pride and joy into my sketches and illustrations. Contact me if you have any questions or requests. I'd be more than happy to chat! Instagram: magic.pineapple.studios Magic Pineapple Studios joined Society6 on January 19, 2016
More
T'is I, a magic pineapple!
I am many things: Student, Part-time Artist, Designer, Illustrator, and Full-time Dreamer. I take great pride and joy into my sketches and illustrations. Contact me if you have any questions or requests. I'd be more than happy to chat!
Instagram: magic.pineapple.studios
Magic Pineapple Studios joined Society6 on January 19, 2016.
Popular by Magic Pineapple Studios
247 results
Filter