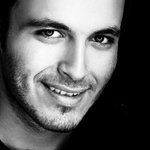 Mel Zahar
I'm Mahmoud El Zahar Art director and web interface designer coming from Cairo, Egypt. Joined this field in 2007, started working as a professional 2009, In Sep 2011. I moved to work in Istanbul until Oct 2012 when I decided to go study 3D and communication art in San Fransisco. What I'm trying to gain experience and knowledge everywhere I go, in order to get a deserved position in a working team that appreciates creativity as much as I do, that's my aim.. Mel Zahar joined Society6 on January 19, 2013
More
I'm Mahmoud El Zahar Art director and web interface designer coming from Cairo, Egypt. Joined this field in 2007, started working as a professional 2009, In Sep 2011. I moved to work in Istanbul until Oct 2012 when I decided to go study 3D and communication art in San Fransisco.
What I'm trying to gain experience and knowledge everywhere I go, in order to get a deserved position in a working team that appreciates creativity as much as I do, that's my aim..
Mel Zahar joined Society6 on January 19, 2013.
Wall Clocks by Mel Zahar
2 results
Filter