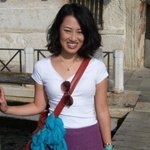 Mai Kurihara
I am a graphic designer who wants to get more satisfaction by creating products by myself. I design, I fix, and I decide (and Society6 produces. Thank you!) I love the process as much as seeing the completion. I am excited to start building my shop here on Society6. Looking forward to connecting with a lot of artists! Things that make me excited: patterns, tiles, dogs, beaches, flamenco, hiking, camping, reading and traveling! Mai Kurihara joined Society6 on February 2, 2014
More
I am a graphic designer who wants to get more satisfaction by creating products by myself. I design, I fix, and I decide (and Society6 produces. Thank you!) I love the process as much as seeing the completion. I am excited to start building my shop here on Society6. Looking forward to connecting with a lot of artists!
Things that make me excited: patterns, tiles, dogs, beaches, flamenco, hiking, camping, reading and traveling!
Mai Kurihara joined Society6 on February 2, 2014.