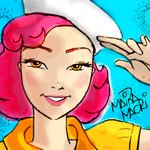 Maira Macri
About Maira Macri
I have three passions ARTISTIC:
1\) Since I can remember, I draw and sketch a lot. My mother made drawing course when I was a Child, so I started scribbling her works, hehehe! I grew up and did some free courses to improve my stroke. Today I am a designer graphic and illustrator;
2\) I also love writing and I have projects tales and stories of fantasy and fiction to publish. I lose myself on my words and my thoughts. Visit my page of Letters recantodasletras.uol.com.br/autores/mairamacri
3\) Music … It's on my soul … Stuck for the rest of my life! I'm a singer and songwriter in special times. Youtube | Maira Macri
I'M NOT NOBODY WITHOUT THESE 3 WONDERS! = D
Maira Macri joined Society6 on October 23, 2011.