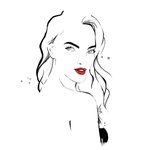 Maja Tomljanovic
Idea person. Creative thinker. Interior lover. Fashion obsessed. Food maker. Traveler du monde. Paper crafter. Wannabe singer. Stones fan. If you post my products on Instagram, feel free to tag me @majatomljanovic, would love to see my artworks in use Follow me on Instagram @majatomljanovic Maja Tomljanovic joined Society6 on April 14, 2013
More
Idea person. Creative thinker. Interior lover. Fashion obsessed. Food maker. Traveler du monde. Paper crafter. Wannabe singer. Stones fan.
If you post my products on Instagram, feel free to tag me @majatomljanovic, would love to see my artworks in use
Follow me on Instagram @majatomljanovic
Maja Tomljanovic joined Society6 on April 14, 2013.
Pillows by Maja Tomljanovic
44 results
Filter
Department

Dept

Pillows & Bedding