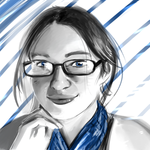 Makayla Watson
I'm a Portland based artist motivated by music, human movement, and the birds. I paint digitally, with watercolor and just love to draw in various mediums. Huge fan of gestures. I'm currently working through college with the dream of teaching art at university. I currently do freelance work as well as design for Lewis & Clark College. Makayla Watson joined Society6 on November 16, 2013
More
I'm a Portland based artist motivated by music, human movement, and the birds. I paint digitally, with watercolor and just love to draw in various mediums. Huge fan of gestures.
I'm currently working through college with the dream of teaching art at university. I currently do freelance work as well as design for Lewis & Clark College.
Makayla Watson joined Society6 on November 16, 2013.