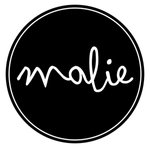 malie
Hi! I'm Mallory! I'm a graphic designer with a love for typography & design, experimenting in my kitchen, puppy snuggles, & yoga. Thanks so much for stopping by my shop! I hope you enjoy my prints, and if you have any suggestions for quotes or color options, I'd love to try them out! So much love. * NOTE ABOUT ART PRINTS: The size listed is the size of the paper - not size of the printed area. Art prints that have a color background do not bleed to the edge [there will be a white border]. The final printed area is noted in the cart prior to purchase. Printables: If you are interested in printing [& framing] yourself, please check out more of my prints in my Etsy Shop - https://www.etsy.com/shop/malieprints malie joined Society6 on January 24, 2014
More
Hi! I'm Mallory! I'm a graphic designer with a love for typography & design, experimenting in my kitchen, puppy snuggles, & yoga.
Thanks so much for stopping by my shop! I hope you enjoy my prints, and if you have any suggestions for quotes or color options, I'd love to try them out!
So much love.
NOTE ABOUT ART PRINTS: The size listed is the size of the paper - not size of the printed area. Art prints that have a color background do not bleed to the edge [there will be a white border]. The final printed area is noted in the cart prior to purchase.
Printables: If you are interested in printing [& framing] yourself, please check out more of my prints in my Etsy Shop - https://www.etsy.com/shop/malieprints
malie joined Society6 on January 24, 2014.
malie's Store
3 results
Filter