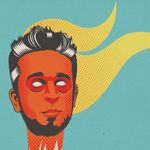 Mamut
Alex Izaguirre a.k.a Mamut is a Venezuelan born graphic artist based in Miami, FL. His passion for design is strongly linked to music. His influences range from graphic novels, rockabilly, lucha libre, rock & roll, patterns and traditional printing techniques. twitter & instagram: @mamut_creative facebook.com/mamutcreative Graduated from the Art Institue of Fort. Lauderdale as a Graphic Designer, he worked for several years as Art Director at the Village Voice Media's publication Miami New Times. As a musician and designer, he has helped built the brand identity of many music acts in his city and dedicate a portion of his time to philanthropic donation of his talent to help a community in need of design. Mamut embraces all the conscious and subconscious pop culture that Alex Izaguirre absorbed by both living in Venezuela as a teenager and in Miami until now. Mamut joined Society6 on February 7, 2015
More
Alex Izaguirre a.k.a Mamut is a Venezuelan born graphic artist based in Miami, FL. His passion for design is strongly linked to music. His influences range from graphic novels, rockabilly, lucha libre, rock & roll, patterns and traditional printing techniques.
twitter & instagram: @mamut_creative facebook.com/mamutcreative Graduated from the Art Institue of Fort. Lauderdale as a Graphic Designer, he worked for several years as Art Director at the Village Voice Media's publication Miami New Times. As a musician and designer, he has helped built the brand identity of many music acts in his city and dedicate a portion of his time to philanthropic donation of his talent to help a community in need of design.
Mamut embraces all the conscious and subconscious pop culture that Alex Izaguirre absorbed by both living in Venezuela as a teenager and in Miami until now.
Mamut joined Society6 on February 7, 2015.