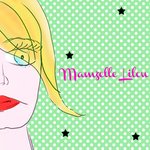 Mamzelle Lilou
French illustrator and graphic designer.
I'm a little fairy in the body of a adult. I like use my pencils to draw every thing which passes by my head. Sometimes it will not succeed, sometimes I don't hate enough to throw everything, then I dare to publish it.
I am inspired by the world of the tattoo, the humor and the childhood. I am a mixture of all this and I hope that my work looks like me.
I try to speak english as my professors would have hoped, but often the hopes remain only hopes.
www.mamzellelilou.com
Read more