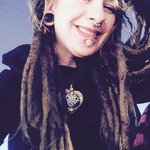 Mandala Rainbow Sunfire
Mandala Rainbow Sunfire (aka Jacquelyn Sommer) carries a deep passion for living life to the fullest and embracing the journey. She is a Visionary Artist with a Bachelor of Arts degree in Drawing, Painting, and Printmaking. Much of her spiritual insight blossoms from music and art festivals, transformational gatherings, sacred play, movement, and healing circles, ceremonies, and earth celebrations. She integrates intuitions of her heart with the wisdom from community elders and ancestors, research, teaching, exploration, communing with nature, and the infinite sisterhood. These experiences have instilled a constant drive for manifesting a creative life full of love and discovering powerful healing. Mandala brings a visionary perspective that unites and uplifts everyone to dance in the immense beauty and blessings inherent in our existence. Her work focuses on themes such as spirituality and culture, goddess love, the symbiosis of music and visual art to create a portal to interdimensional knowledge, symbolism, and psychedelia. Creating powerful change through art by weaving harmony, love, and rainbow light into the commUNITY is of utmost importance to her work. Mandala Rainbow Sunfire joined Society6 on March 11, 2016
More
Mandala Rainbow Sunfire (aka Jacquelyn Sommer) carries a deep passion for living life to the fullest and embracing the journey. She is a Visionary Artist with a Bachelor of Arts degree in Drawing, Painting, and Printmaking. Much of her spiritual insight blossoms from music and art festivals, transformational gatherings, sacred play, movement, and healing circles, ceremonies, and earth celebrations. She integrates intuitions of her heart with the wisdom from community elders and ancestors, research, teaching, exploration, communing with nature, and the infinite sisterhood. These experiences have instilled a constant drive for manifesting a creative life full of love and discovering powerful healing. Mandala brings a visionary perspective that unites and uplifts everyone to dance in the immense beauty and blessings inherent in our existence.
Her work focuses on themes such as spirituality and culture, goddess love, the symbiosis of music and visual art to create a portal to interdimensional knowledge, symbolism, and psychedelia. Creating powerful change through art by weaving harmony, love, and rainbow light into the commUNITY is of utmost importance to her work.
Mandala Rainbow Sunfire joined Society6 on March 11, 2016.
Mandala Rainbow Sunfire's Store
21 results
Filter