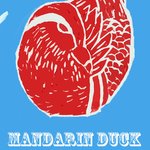 Mandarin Duck Craft
Mandarin Duck Craft specialises in designing and creating hand printed/painted products including silk scarves, cushions, Origami birds and prints. Mandarin Duck Craft was set up by Luo Tao, a 2009 graduate from the illustration department of The Glasgow School of Art. She has exhibited her work in Glasgow, Ayrshire, Dumfries and Galloway and London.  Mandarin Duck Craft makes each object by hand, resulting in unique outcomes each time. The creative process is inspired by the natural world and the organic beauty that can be found in everyday life. It is extremely important to Mandarin Duck that the products made are as individual as the customer. Mandarin Duck Craft joined Society6 on February 24, 2014
More
Mandarin Duck Craft specialises in designing and creating hand printed/painted products including silk scarves, cushions, Origami birds and prints.
Mandarin Duck Craft was set up by Luo Tao, a 2009 graduate from the illustration department of The Glasgow School of Art. She has exhibited her work in Glasgow, Ayrshire, Dumfries and Galloway and London.  Mandarin Duck Craft makes each object by hand, resulting in unique outcomes each time. The creative process is inspired by the natural world and the organic beauty that can be found in everyday life. It is extremely important to Mandarin Duck that the products made are as individual as the customer.
Mandarin Duck Craft joined Society6 on February 24, 2014.
Mandarin Duck Craft 's Store
84 results
Filter