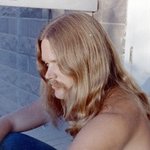 Gerald Mandell
Gerald "Jerry" Julius Mandell, was born Robert Kenneth Caulder on March 12th, 1947 to Helen Ruth Kertson of Grand Falls, New Brunswick, Canada and Donald Archer of Los Angeles, California. He was adopted by the Mandell family of Albuquerque, NM. Julius Mandell, Jerry's grandfather, was co-owner of Mandell & Dreyfus during the late part of the nineteenth century and the early part of the twentieth century. Later the store was called Mandell's Clothing and was located in downtown Albuquerque. Eventually they moved to Coronado Mall, and then the shopping center on San Mateo and Montgomery. Joe, Jerry's dad, retired and closed the store in 1982. Jerry wasn't interested in taking the clothing store over but he was interested in Photography. This is a collection of the negatives that he left his daughter, Myria, after his passing on November 1st, 2006. Gerald Mandell joined Society6 on April 17, 2014
More
Gerald "Jerry" Julius Mandell, was born Robert Kenneth Caulder on March 12th, 1947 to Helen Ruth Kertson of Grand Falls, New Brunswick, Canada and Donald Archer of Los Angeles, California. He was adopted by the Mandell family of Albuquerque, NM.
Julius Mandell, Jerry's grandfather, was co-owner of Mandell & Dreyfus during the late part of the nineteenth century and the early part of the twentieth century. Later the store was called Mandell's Clothing and was located in downtown Albuquerque. Eventually they moved to Coronado Mall, and then the shopping center on San Mateo and Montgomery. Joe, Jerry's dad, retired and closed the store in 1982.
Jerry wasn't interested in taking the clothing store over but he was interested in Photography. This is a collection of the negatives that he left his daughter, Myria, after his passing on November 1st, 2006.
Gerald Mandell joined Society6 on April 17, 2014.