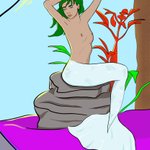 Mandi Lynn Prevoteau
Every day interactions are an inspiration. An interesting comment can spark an entire composition. Movement can inspire a new pose. Inspiration can come from anywhere and anything, you just have to be open to accept it, no matter how strange the idea. Mandi Prevoteau is an illustrator of dark and surreal images. Her figures have poses that demonstrate their strength and possibly their nefarious intent. They possess beauty, as well as a skill in getting what they want, no matter what moral obstacle. Creatures of the sea are also present in her work. Mermaids with tails of different designs as well as brightly colored, neon jellyfish. These mysterious creatures become even more surreal with the addition of bright or odd combination of colors. While in college, Mandi was an art major with a focus in drawing and illustration. Currently, Mandi is working on illustrating a children's book. In the past, Mandi has etched murals freehand onto cemetery monuments. Mandi Lynn Prevoteau joined Society6 on August 25, 2013
More
Every day interactions are an inspiration. An interesting comment can spark an entire composition. Movement can inspire a new pose. Inspiration can come from anywhere and anything, you just have to be open to accept it, no matter how strange the idea.
Mandi Prevoteau is an illustrator of dark and surreal images. Her figures have poses that demonstrate their strength and possibly their nefarious intent. They possess beauty, as well as a skill in getting what they want, no matter what moral obstacle. Creatures of the sea are also present in her work. Mermaids with tails of different designs as well as brightly colored, neon jellyfish. These mysterious creatures become even more surreal with the addition of bright or odd combination of colors. While in college, Mandi was an art major with a focus in drawing and illustration. Currently, Mandi is working on illustrating a children's book. In the past, Mandi has etched murals freehand onto cemetery monuments.
Mandi Lynn Prevoteau joined Society6 on August 25, 2013.