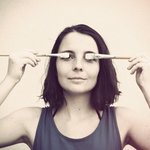 Mand'Ine Wonderland
Traveling in the middle of my dream illustrations between dream and reality. I grew up amidst tales of Grimm, Andersen, Perrault, the Thousand and One Nights, fantasy worlds in which dream and reality are no longer discernible, watch movies of Tim Burton, plunge the look in paintings of Dali , Ernst, Magritte and some illustrators such as Edward Gorey and Charles Addams cannot leave unscathed! This made a person lost between figurative and abstract. The only possible way was a mix of collage and painting. Collage of figurative elements from my photos gives a very real picture which is then offset by an painted environment, providing a feeling of fantastic and imaginary places. Like a dream, no one knows if it is figurative or abstract... A character, always the same, walks from a painting to another, with changing context. He finds himself in unexpected situations amidst invented landscapes. Through a journey, he discover or rediscover the famous monuments in incredible situations. These monuments encounter between a context, a character with a live environment... Make items that had hitherto never rubbed shoulders to reach the extraordinary. No more limits, no more constraints, everything becomes possible! A new vision, a new look at the world. Come travel in this dreamlike painting! Mand'Ine Wonderland joined Society6 on April 22, 2013
More
Traveling in the middle of my dream illustrations between dream and reality.
I grew up amidst tales of Grimm, Andersen, Perrault, the Thousand and One Nights, fantasy worlds in which dream and reality are no longer discernible, watch movies of Tim Burton, plunge the look in paintings of Dali , Ernst, Magritte and some illustrators such as Edward Gorey and Charles Addams cannot leave unscathed! This made a person lost between figurative and abstract. The only possible way was a mix of collage and painting. Collage of figurative elements from my photos gives a very real picture which is then offset by an painted environment, providing a feeling of fantastic and imaginary places. Like a dream, no one knows if it is figurative or abstract... A character, always the same, walks from a painting to another, with changing context. He finds himself in unexpected situations amidst invented landscapes. Through a journey, he discover or rediscover the famous monuments in incredible situations. These monuments encounter between a context, a character with a live environment... Make items that had hitherto never rubbed shoulders to reach the extraordinary. No more limits, no more constraints, everything becomes possible! A new vision, a new look at the world. Come travel in this dreamlike painting!
Mand'Ine Wonderland joined Society6 on April 22, 2013.
Mand'Ine Wonderland's Store
32 results
Filter