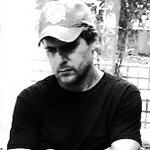 Mangabeiraink
My name is Andre Mangabeira and I live in Brazil. I define myself as an enthusiastic painter and I prefer to work with traditional media like ink and watercolor. Quite often I like to play with dark colors more focused on mood and atmosphere. This is a natural tendency in my work. Check out blog later. Thank you. https://mangabeirainkblog.wordpress.com/ Mangabeiraink joined Society6 on June 9, 2016
More
My name is Andre Mangabeira and I live in Brazil. I define myself as an enthusiastic painter and I prefer to work with traditional media like ink and watercolor. Quite often I like to play with dark colors more focused on mood and atmosphere. This is a natural tendency in my work. Check out blog later. Thank you.
https://mangabeirainkblog.wordpress.com/
Mangabeiraink joined Society6 on June 9, 2016.