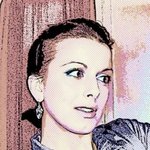 Manuela Mishkova
We are Mandy and Kamen, both professional artists. We met at high school, while both studying "Painting". Later on Mandy graduated from the National Academy of Arts with Master degree in "History of Art". Kamen graduated in major "Graphic design and applied graphics". We are a small family run business that loves everything creative! We hope to help you bring your own creativity to the next level and give joy to your loved ones. We have recently moved to Lille, France and enjoying the opportunity to offer you one of a kind, hand painted clip art items. We both love painting flowers and creating clip art. We enjoy making art, painting is just something we have been doing all our life from the very start. We are using mostly watercolor and gouache (mixed) and sometimes we add acrylic when we need accents or highlights. I offer you one of a kind pieces of art, entirely hand drawn and painted by us. Manuela Mishkova joined Society6 on February 4, 2013
More
We are Mandy and Kamen, both professional artists. We met at high school, while both studying "Painting". Later on Mandy graduated from the National Academy of Arts with Master degree in "History of Art". Kamen graduated in major "Graphic design and applied graphics".
We are a small family run business that loves everything creative! We hope to help you bring your own creativity to the next level and give joy to your loved ones.
We have recently moved to Lille, France and enjoying the opportunity to offer you one of a kind, hand painted clip art items. We both love painting flowers and creating clip art.
We enjoy making art, painting is just something we have been doing all our life from the very start. We are using mostly watercolor and gouache (mixed) and sometimes we add acrylic when we need accents or highlights.
I offer you one of a kind pieces of art, entirely hand drawn and painted by us.
Manuela Mishkova joined Society6 on February 4, 2013.