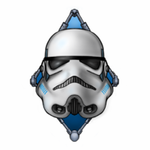 Manuel Moya
It all started when I was very young, when I could not differentiate too hit the things I went with imagined .... A nuisance at first, but it was clear that this was going to define my way of seeing the world and communicate with him. My creative process is always based on representing a moment in time that has not happened yet. It is based on my own experiences and create adventures, fleeting moments that define a place in my memory. An image to remember can see my work at: http://www.domestika.org/portfolios/manuel_moya Manuel Moya joined Society6 on August 28, 2012
More
It all started when I was very young, when I could not differentiate too hit the things I went with imagined ....
A nuisance at first, but it was clear that this was going to define my way of seeing the world and communicate with him. My creative process is always based on representing a moment in time that has not happened yet.
It is based on my own experiences and create adventures, fleeting moments that define a place in my memory.
An image to remember
can see my work at:
http://www.domestika.org/portfolios/manuel_moya
Manuel Moya joined Society6 on August 28, 2012.
Manuel Moya 's Store
15 results
Filter