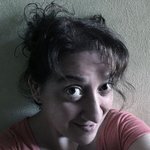 Manuela Leporesi
I am an illustrator who lives in Rimini with a husband and two cats, Pulce and Luigi, who often walking on my tablet would contribute to my designs. I published several children's books before being employed in an agency where I worked for almost 20 years as a graphic. But now I'm still an illustrator because I want to begin drawing again, I NEED IT. Contact me at manu_elle@virgilio.it Visit my portfolio on https://www.behance.net/manu_elle Manuela Leporesi joined Society6 on July 14, 2016
More
I am an illustrator who lives in Rimini with a husband and two cats, Pulce and Luigi, who often walking on my tablet would contribute to my designs. I published several children's books before being employed in an agency where I worked for almost 20 years as a graphic. But now I'm still an illustrator because I want to begin drawing again, I NEED IT.
Contact me at manu_elle@virgilio.it
Visit my portfolio on https://www.behance.net/manu_elle
Manuela Leporesi joined Society6 on July 14, 2016.