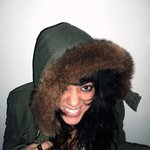 María Baha
María Baha ( Córdoba,Spain 1986) is an graphic designer. Graduated in graphic design from EASD Valencia.
"I wanted to study lots of things: fine arts, advertising and illustration, but in the end I found my other half: graphic design! and thanks to it, print patterns". For greetings, small or pro-scale jobs, please contact here; mariabarril@me.com Shop (handmade accessories): http://bellasombra.es/ Blog: http://cuaderno-de-pattern.blogspot.com.es/ María Baha joined Society6 on February 18, 2014
More
María Baha ( Córdoba,Spain 1986) is an graphic designer. Graduated in graphic design from EASD Valencia.
"I wanted to study lots of things: fine arts, advertising and illustration, but in the end I found my other half: graphic design! and thanks to it, print patterns".
For greetings, small or pro-scale jobs, please contact here; mariabarril@me.com
Shop (handmade accessories): http://bellasombra.es/ Blog: http://cuaderno-de-pattern.blogspot.com.es/
María Baha joined Society6 on February 18, 2014.