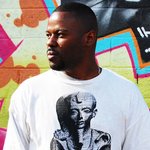 Marcellous Lovelace
Marcellous Lovelace was born on the south side of Chicago, Illinois and now travels the world. He uses art to express his deepest emotions (energy in motion) and calls himself a unique traveler of the world who brings African American Art into a Factual Light. His art is almost completely self-taught. His favorite subject is the human form. He paints using various media from oil, acrylic, pastels, glue, magazines, house paint, shoe polish, Georgia red dirt, and simple ink pens. In 2005 he received a full scholarship from the San Francisco Art Institute. Visit websites: www.marcellouslovelace.com www.2017blackart.com www.myspace.com/2017blackart www.infinito2017.com Marcellous Lovelace joined Society6 on January 25, 2012
More
Marcellous Lovelace was born on the south side of Chicago, Illinois and now travels the world. He uses art to express his deepest emotions (energy in motion) and calls himself a unique traveler of the world who brings African American Art into a Factual Light. His art is almost completely self-taught. His favorite subject is the human form. He paints using various media from oil, acrylic, pastels, glue, magazines, house paint, shoe polish, Georgia red dirt, and simple ink pens. In 2005 he received a full scholarship from the San Francisco Art Institute.
Visit websites: www.marcellouslovelace.com www.2017blackart.com www.myspace.com/2017blackart www.infinito2017.com
Marcellous Lovelace joined Society6 on January 25, 2012.